The New Generation
The Cognard house, 1974, was a year of great happiness, since first of all, Lydie Taluau inherited a hectare of vines to be vinified which she decided to share with her partner Max Cognard. Moreover, Estelle Cognard was born that same year.
Moreover, the company Lydie & Max Cognard was created. To distinguish himself, Max Cognard chose to name his first cuvée Les Malgagnes, (a name derived from the parcel) and not to follow the fashion of "young & old vines".
Four years later, Rodolphe, the future winemaker, was born.
In 1985, Cognard built an air-conditioned cellar to prevent the temperature from rising in the summer and installed stainless steel vats. Moreover, the surface area of the vineyards was extended to 7 hectares.
A takeover
In 1997, Estelle Cognard decided to gradually take over the family business. The winegrowing family invested in thermo regulation.
In 2001, Rodolphe Cognard decided to join the exploitation. At the same time, the old cellars were renovated into a tasting room.
In 2010, as the wine production became more and more important, a storage cellar with a stable temperature all year round at 16-18 °C and a shed were built.
In 2013, Lydie and Max retired but they are active retirees!
We gave up chemical weed control in 2016 and worked our soils 100%. To go further, we established a contract with Ecocert in 2017. On the way to an organic farm. In the meantime, Audrey joined us on the family farm in 2016.
Our chief winemaker left us in March 2018 after a long battle with illness. He passed on his love of the job, his talent in the cultivation of the vine and the elaboration of the wines and thanks to his little notes during the different vinifications we continue to vinify, in his footsteps, fine and elegant wines in the image of the house.
The same year Matthieu joined the team. Olivier will replace Aurélien in 2021.
At present, the vineyards cover 15 hectares.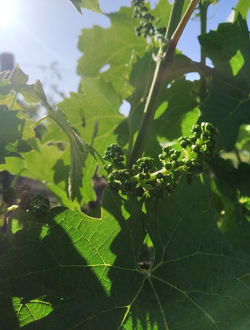 Estelle Cognard : manager of the SCEA, in charge of all the commercial administration and accounting. Customer reception.
Rodolphe Cognard: After more than 6 years of struggle Rodolphe left us this March 30, 2018.
Olivier Nicolle : wine making, manual work (pruning, green work,...) of the vineyard, management of the vineyard
Matthieu Petit : Manual work (pruning, green work, ...) and mechanized work (soil work, ...) of the vineyard, management of the vineyard
Audrey Bossard : In charge of communication, work in the cellar (labeling, packaging, etc.), administration, commercial actions in the field (fairs, etc.). Reception of customers.
Since their retirement, Lydie owns a cottage " le Berlot " in Benais. She now spends most of her time there. Max still works in the cellar for the filtration and helps from time to time in the vineyards.